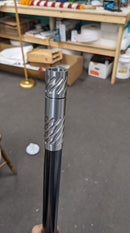 Description
SCREW IN TO 812 3.50" 
- FIT OPTIONS -
INVECTOR PLUS TO 812
REM TO 812
WIM TO 812
- FEATURES -
CNC MACHINED 4130 CHROMOLY 
SLIM BODY PROFILE 0.990" OD
COMPACT LENGTH (ONLY ADDS 3.875" TO YOUR EXISTING BARREL)
0.750" ENTRY RAMP / 0.740" PRE CHOKE BORE
0.814" ID 3.50" CHOKE POCKET
INTERNAL THREADED CAP
QUICK CHANGE DUAL 16 THREAD CAP
EXTERNAL FLUTING TO REDUCE WEIGHT
*Replacement universal fit caps available, if you drop or damage your cap you do not need to buy a full assembly you can order just a replacement cap. 
Payment & Security
Your payment information is processed securely. We do not store credit card details nor have access to your credit card information.